Everything You Need to Know about CuffLinks! Know Your Wear!
Cufflinks are an accessory that can take a man's looks from average to absolutely luxurious, and the way such small accessories can make such a great impact makes them even more special. If you don't know what are cufflinks, everything you need to know about them, how to wear them, and their different types, is stated below.
What are cufflinks?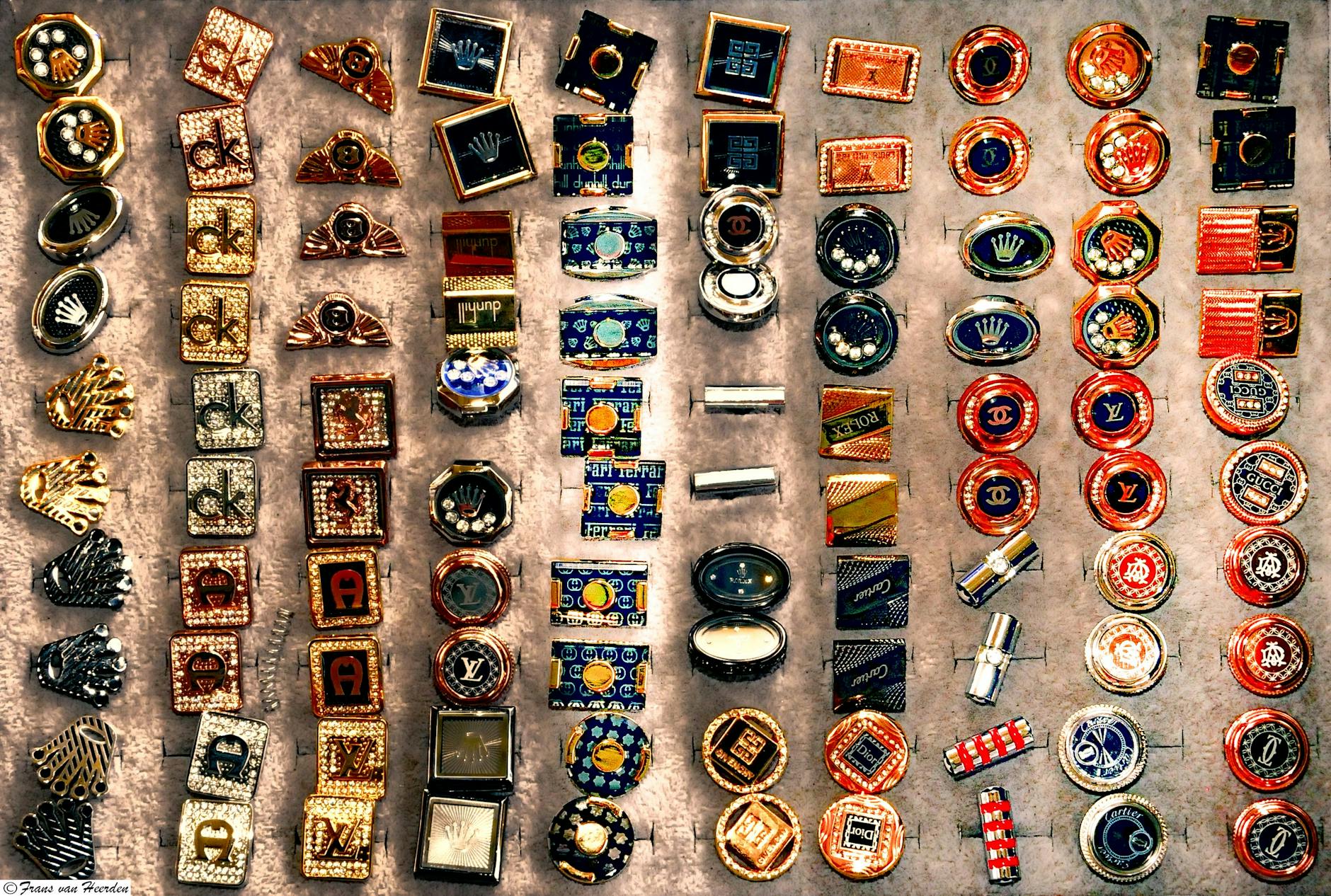 Firstly, it is important to know what cufflinks really are. A cufflink is a men's accessory used to hold the cuffs of their long sleeves in place. Now you must be wondering, "buttons play the exact same role, so what's all this hype about?" To clear that confusion, cufflinks do differ from buttons in many ways.
Now, let's address one question asked by men, "How do cufflinks work with buttons?" The answer to this question is pretty simple; cufflinks cannot be worn with shirts with buttons. This can be explained by learning the key differences between cufflinks and buttons.
Difference between buttons and cufflinks
A shirt with buttons typically has a button attached on one opening of a cuff, and a hole on the other side to slip the button into. However, a long-sleeved shirt that is intended to be fastened using cufflinks has no buttons attached. Such cuffs are known as French cuffs which have to be folded back on themselves and fastened with cufflinks. So, the question "how do buttons work with cufflinks?" is meaningless, as both these things cannot be supported on the same shirt.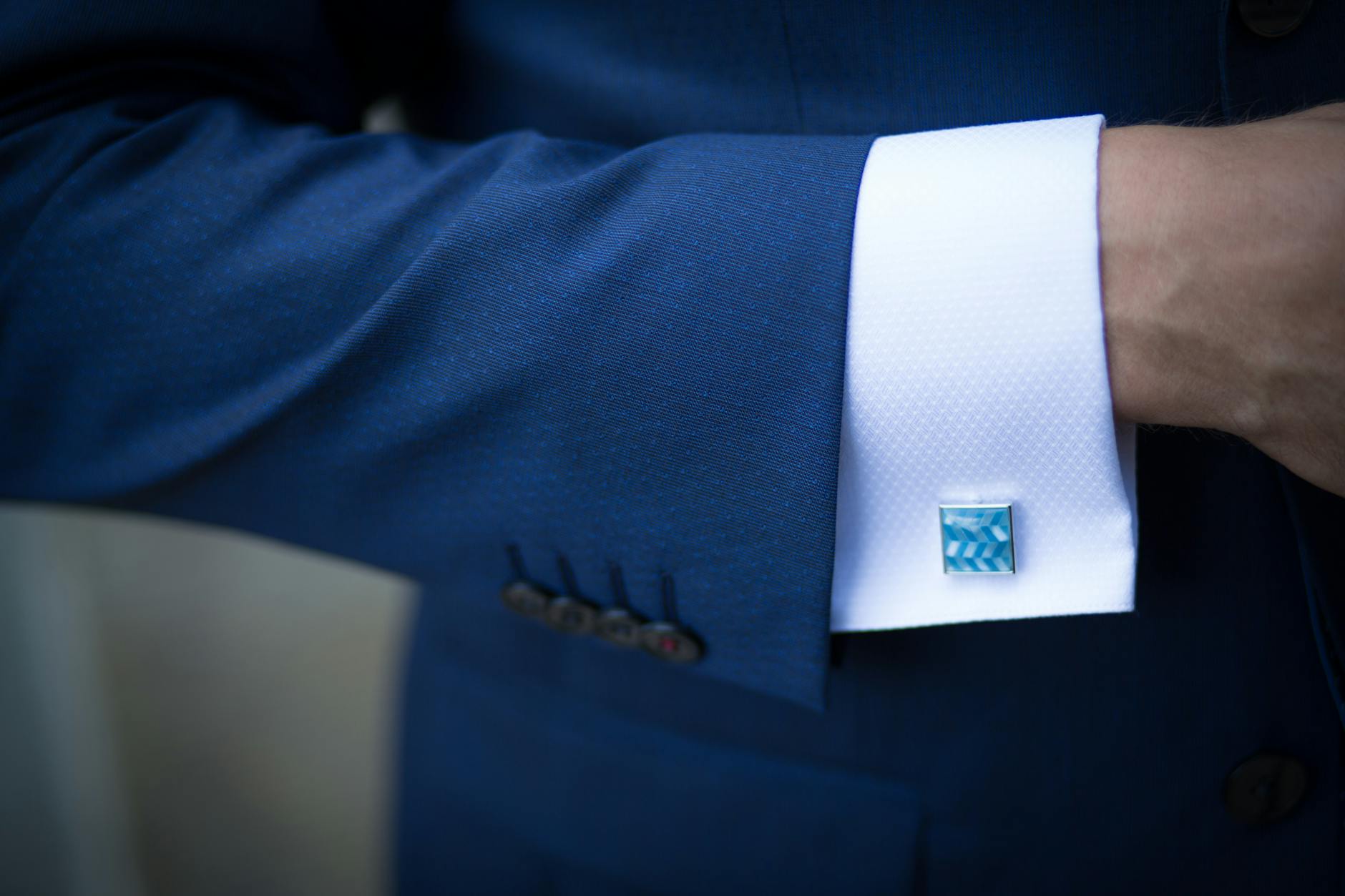 Buttons are only for functional purposes. They are plain and boring, and usually have no decorative purposes. In contrast to buttons, cufflinks offer ornamental benefits along with fulfilling functional purposes, i.e., to fasten the cuffs. However, unlike buttons, cufflinks are worn formally on special occasions, especially when you're wearing a jacket or tuxedo. 
Therefore, cufflinks are small yet effective items that allow men to have a luxurious and classy style on various formal and semi-formal events.
How to put on cufflinks?
Fastening you cuffs with cufflinks might seem like a tricky thing, but the truth is that cufflinks are developed using a very simple mechanism and are quite simple to fasten. In order to understand how to put on cufflinks, it is important to understand the different types of cufflinks that are available in the market.
Types of cufflinks
Cufflinks are available in a variety of designs, and each type of cufflink offers different ranges of styles and luxurious looks. If you want to know what are cufflinks types, here are the different types which you can buy to match your style, personality, and event.
Bullet back and toggle closure cufflinks
These are the most common type of cufflinks that are easily found in markets. You can find countless men slaying their looks with this type of cufflinks.
The bullet-back cufflink comprises a moveable part called a toggle that is shaped like a bullet, and it is suspended between two posts attached to the head of the cufflink. It holds the cufflinks tightly into place without allowing them to loosen.
How to put on a bullet back and toggle closure cufflink?
The toggle is a moveable part that can lines up with the post of the cufflink. Once aligned with the post, it can be inserted through the holes of the cuffs. Both sides of the cuffs are aligned in a way that their holes line up and the insides of the cuffs are face-to-face. The toggle and post are then slipped into both the holes. Once inside, the toggle is rotated into 90o from the post where it locks into position.
Whale back cufflinks
Whale back cufflinks are quite similar to the previous type that was discussed above. Rich in style and a sleek look. Just like the bullet back cufflinks, whale back cufflinks are also made up of one moveable part attached to the post, but the difference lies in its shape. Instead of a bullet-like shape, it has a thick rotating metal bar, usually rectangular.
How to put on a whale back cufflink?
To understand how to put on cufflinks with a moveable part, just rotate the bar of this cufflink so that it lines up with it post. This allows easy insertion of the cufflink into the holes of the cuffs. After it is inside, it can be rotated again to be aligned to a 90o with the post. This locks the cufflink into place and keeps it from slipping out.
Chain link cufflinks
This type of cufflink is not as common as the previous cufflinks, but it is rich in style and luxury. The design comprises two heads attached with a fine, flexible chain. The benefit of this cufflink is that both sides are decorated with the same design. If you are wondering how to put on cufflinks of this type, it's not that tricky.
How to put on a chain link cufflink?
The attachment of chain link cufflinks is pretty straightforward. Just slip one side of the cufflink into both the cuff holes. Unlike the whale back and bullet back cufflinks, these cufflinks have no parts that allow them to click into place, so they can be a little fiddly to insert.
Ball return cufflinks
Ball return cufflinks comprise of no moveable parts, so they do not have to be adjusted before or after putting them on. The prominent feature of this type of cufflinks is that the post is attached to fixed spheres on both ends. The sphere on one side is smaller than the other.
How to put on a ball return cufflink?
Learning how to put on cufflinks of this type is quite easy. Ball return cufflinks provide a very easy and efficient attachment. Just slip the smaller side of the cufflink into the cuff holes, and your cuffs are secured.
Fixed back cufflinks
These cufflinks are very similar to the ball return cufflinks, the only difference being the design. Just like the name suggests, these cufflinks have no moveable parts. One side is different in size and design from the other side.
How to put on a fixed back cufflink?
Just like the ball return cufflink, you just have to slip one side into the cuff holes without having to adjust them before or after its insertion.
Foldable locking system cufflinks/dual-action cufflinks
With unique styles and classy designs, the dual-action cufflinks with a locking system are the latest design that help you assert elegance and smoothness.
This type of cufflink is creatively designed with a smart contemporary mechanism. It comprises two sides connected together with a hinge that works are a bridge between them and as a locking system. One side is usually slightly smaller than the other.
How to put on a dual-action cufflink?
In order to secure your cuffs using this cufflink, simply insert the smaller side through both the holes of your cuffs, and click them into place. This cufflink secures the cuffs together firmly and provides the additional benefit of decorated ends on both sides.
Silk knot cufflinks
The most casual and informal style amongst all the cufflinks, this one is really affordable and has a simple design. With 'monkey-fist knots' on both sides, they are easy to put on and fit for those men who love letting their fun sides seep through their dressing styles.
How to put one a silk knot cufflink?
Both the sides of this cufflink are the exact same, so just slip one of the sides into the holes of your cuffs to secure them.
Learning how to put on cufflinks is very simple. All you need to know is to understand the type of your cufflinks and follow the basic steps to attach them.
Now that you've chosen the type of cufflink, it is also important to be able to understand the different materials of the cufflinks to help you choose the best one for you.
Materials of cufflink's base
Cufflinks are easily available in a variety of materials, ranging from different prices and appearances. If you do not know what are cufflinks materials, here's a list of some of the main materials that are used to make cufflinks.
Gold cufflinks
What are cufflinks without some bling-bling? The purpose of wearing cufflinks at formal events is to wear an additional accessory to gain appreciation and attention; so, what's better than investing in gold cufflinks? Throughout countless centuries, gold has always been associated with high-class and luxury, so if you are willing to invest in expensive cufflinks to adorn your looks, this is a good choice. However, gold cufflinks have a bright yellowish luster, so they have to be utilized carefully.
Sterling silver cufflinks
If you have a really good taste and also enjoy wearing lustrous accessories, then buying cufflinks made out of sterling silver is a suitable option for you. These cufflinks are also expensive to buy, but investing in a pair or two will offer you benefits in the long run. These are a better option than buying gold cufflinks because with their elegant silver color and sleek luster, you can easily utilize them with a variety of dresses. They will attract the right amount of attention and never be "too much" at any formal event.
Platinum cufflinks
Platinum is a silvery-white material that offers longevity because of its anti-tarnishing properties. You can buy platinum cufflinks if you want to invest in cufflinks that are easy to pair with outfits of any color. They have a very soft luster that subtly gleams under the light and offers you an elegant look.
Copper cufflinks
Copper is a metal that is less yellow than gold and has a warm reddish hue to it. Moreover, as time goes on, copper obtains a patina, which darkens its color. Copper cufflinks are not very common, but with the right outfit to pair them with, you can still look good. However, copper has a very distinctive hue, so it can be a little difficult to choose the right type of event and dress with them.
Bronze cufflinks
Just like copper, bronze is also much warmer than the bright yellow shade of gold, but without the reddish tint that is found in copper. It has similar properties to copper, as bronze also developed a patina, and its distinctive shade makes it difficult to be paired with most outfits.
Titanium cufflinks
Titanium is another expensive metal that is used in modern jewelry. Just like silver and stainless steel, titanium has a very delicate luster that gives you a polished and graceful look. It has a silvery luster that lies slightly on the grey side. It is a smart choice to invest in some titanium cufflinks as they are easy to pair with more outfits.
Metal alloy cufflinks
Cufflinks made out of precious metals are a great choice for those who are willing to invest a lot of money in high-end cufflinks. However, not everyone has a big budget to spend on such a small accessory. So, if you want to buy affordable cufflinks with the polish and luster similar to precious metals, opt for metal alloy cufflinks. They are made from a blend of metals and are polished to have a luster like gold, silver, etc.
Silk cufflinks
Silk fibers are used to create silk knot cufflinks, that are being embraced by those men who love letting their fun side seep through their attire. When it comes to the colors of silk knot cufflinks, the choices are limitless. In addition to being extremely casual and creative, they are really inexpensive, so it is easy to buy plenty of them.
Stainless steel cufflinks
Stainless steel cufflinks have a very polished and elegant look as they have a very subtle luster that gives you a clean and decent look. They offer more longevity because of their non-rusting properties, so it is a good option to invest in them.
Materials for cufflink's body
Precious stones cufflinks
Buying cufflinks made out of precious metals is not the only way to seek that ultimate luxurious look that will set you apart from the crowd.
Precious gemstones nestled inside precious or semi-precious cufflink bases is another way to exude grace and opulence. Moreover, precious gemstones can offer you a vast variety to choose from.
Some of the gemstones that you can choose to adorn your looks are as follows:
Mother of pearl
Diamond
Black onyx
Black jade
Sapphire
Ruby
Emerald
Opal
Lapis lazuli
Turquoise
The choices are limitless! The best thing about having gemstones are your cufflinks is that each gemstone has a unique appearance with its different reflective properties. Display your unique style by wearing precious stones cufflinks.
Enamel cufflinks
With their versatile designs and colors, enamel cufflinks are a good way to adorn your looks and make a remarkable impact in any gathering. They come in a variety of designs and colors, providing you a vast variety to choose from.
Fabric button cufflinks
A good choice for informal and casual appearances, fabric cufflinks offer you a variety of designs and colors to suit your personality and style. Creating DIY fabric cufflinks with button kits and cufflinks blanks is a very common choice for those who love utilizing their time for creative activities.
When to wear cufflinks?
Once you have a clear knowledge about what are cufflinks, and what type of cufflinks are the best fit for you, another thing to decide when to wear them. Unlike buttons, cufflinks are an ornamental accessory that is certain to draw attention in any gathering. They also assert a sense of superiority, so when it comes to deciding the right type of event to wear them, you need to be a little careful.
Work/business attire
Whether it is a presentation, conference, or an important meeting with a client, wearing cufflinks with your suit can make a strong and positive impression. However, one thing to keep in mind is that it is not a good idea to wear cufflinks every day to work. Only wear them on special occasions when you need to make a strong impression.
Select from cufflinks that are outside of the color wheel and make a decent impression, such as platinum, sterling silver, or titanium. You can also select from some classy stones such as onyx or lapis lazuli. Remember, your goal is to show them that you care about this business gathering through your appearance, and not to alienate them. So, choose cufflinks that are not too flashy or ornate.
Office parties
During office parties, you are allowed to let a piece of your true self show. So, you can choose from elegant and decent cufflinks with a little pop of color or design. However, don't be too flashy or you'll seem out of place.
You can wear cufflinks with a tint of color, such as opal or sapphire. For cufflink base, it is best to keep things simple. You can also match your cufflinks with your pocket squares. Check out our pocket squares made with the highest quality fabrics and prints.
Wedding ceremonies
For wedding ceremonies, you can show your true style and exude confidence by wearing ornate and intricate cufflinks.
If paired carefully, flashy cufflinks made out of gold, copper or bronze can make you stand out from the crowd. If worn with the perfect outfits, these bright cufflinks make you look luxurious and opulent. So, if you've invested in a good pair of these shiny cufflinks, don't be afraid to try them out. Moreover, you can also try some precious stones multi-faceted stones like diamonds.
Black tie events
For black tie events, the best option is to stick to the dress code. You can select black onyx or black jade nested within silver-colored cufflink bases to exude grace and elegance.
Casual wear
Cufflinks aren't really meant to be worn casually. However, if you want to define your unique style and personality by adding this little accessory to your daily outfits, there are some appropriate options available for you.
Silk knot cufflinks are affordable, and the silk fibers can be dyed into any color which makes them available in a variety of colors. You can try out different colored silk knot cufflinks in contrast with your casual shirts for an easy-going and fun image.
Moreover, DIY fabric button cufflinks are another option for you if you wish to wear casual cufflinks with fun designs, patterns and colors.
If you want to buy casual shirts, we make high-quality shirts with the finest fabrics.
Key Takeaway
If you have no idea about what are cufflinks, how to put on cufflinks, and what types are most suitable for you, there is nothing to worry about. With this guide, you can easily slay your looks with these accessories. Check out our men's accessories to wear at casually or at events.
---